This morning, the SparkX Team at SparkFun released the first open-source, OSHWA certified, embedded-systems module that allows users to integrate the TensorFlow machine-learning platform into any design. The team also released three carrier boards that already have the module: BlackBoard Artemis; BlackBoard Artemis Nano; and BlackBoard Artemis ATP.
To learn more about the project, the following resources will be helpful:
Press Release
This type of project is interesting because it is the first module SparkFun has designed AND it is the first open-source module available on the market. "Our goal is to enable anyone to integrate low-power machine learning into their designs and projects without being locked into a specific toolchain," said SparkFun founder and engineer, Nathan Seidle, "The Artemis module is the first product to bridge the gap between hobbyists and consumer products, providing a single module from prototype to production."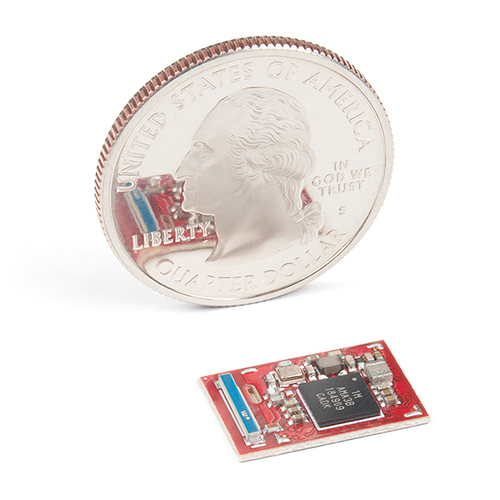 Artemis Module Details
Beyond its small size (15.5 x 10.5mm including antenna), key features of the ultra-low-power Artemis module include:
Cortex-M4F based BLE module using the Apollo3 microcontroller from Ambiq
Advanced HAL (hardware abstraction layer) allowing users to push the modern Cortex-M4F architecture
Capability of running machine learning algorithms with the low current consumption of 6μA/MHz at 3.3V
Integrated Bluetooth 5 low-energy radio and 2.4GHz antenna
All necessary circuitry for easy integration—large SMD pads and spacing allow for low-cost 2-layer carrier board implementations; programming over pre-configured serial bootloader or JTAG
ISO7816 Secure 'Smart Card' interface
Secure firmware update system
Flexible serial peripherals
Rich set of clock sources
Camera capable

What About the Three Carrier Boards?
The three carrier boards provide fairly familiar form factors and enable anyone to flex the capabilities of Artemis module. All three boards:
Have a digital MEMS microphone for experimenting with always-on voice commands with TensorFlow and machine learning
Have built-in BLE radio
Are fully compatible with SparkFun's Arduino core and can be programmed easily under the Arduino IDE (SparkFun wrote the core from scratch)
Have an exposed JTAG connector for more advanced users who prefer to use the power, flexibility, and speed of professional tools
Include Qwiic® connectors for easy prototyping and daisy-chain capabilities for the Qwiic ecosystem, which includes 70+ sensors, outputs, and controllers

The SparkFun BlackBoard Artemis comes in the Uno footprint and is a good entry point for working with the Artemis module; the BlackBoard Artemis Nano is the smallest form factor of the three boards and offers great flexibility for smaller projects; and the Blackboard Artemis ATP ("all the pins") breaks out all 48 GPIO of the module and allows users to leverage the full capabilities of the module.

Next Steps For This Project?
SparkFun is currently seeking FCC/CE approval for the Artemis module, which will be released as shielded modules and will be available in tape-and-reel quantities. The Engineering Version released today, allows users to get started as soon as possible. Once approved, having a module that is both FCC/CE certified and OSHWA certified is most definitely a first.

Why are we sharing this project with the OSHWA community?
Typically, embedded modules are not open source and they lock users into a particular toolchain. Additionally, the gap between prototype and production is clunky at best. We hope the OSHWA community will 1) use the module and/or the boards with the module to create awesome projects and products and 2) share the module with others.

Please let us know if you have comments or questions.